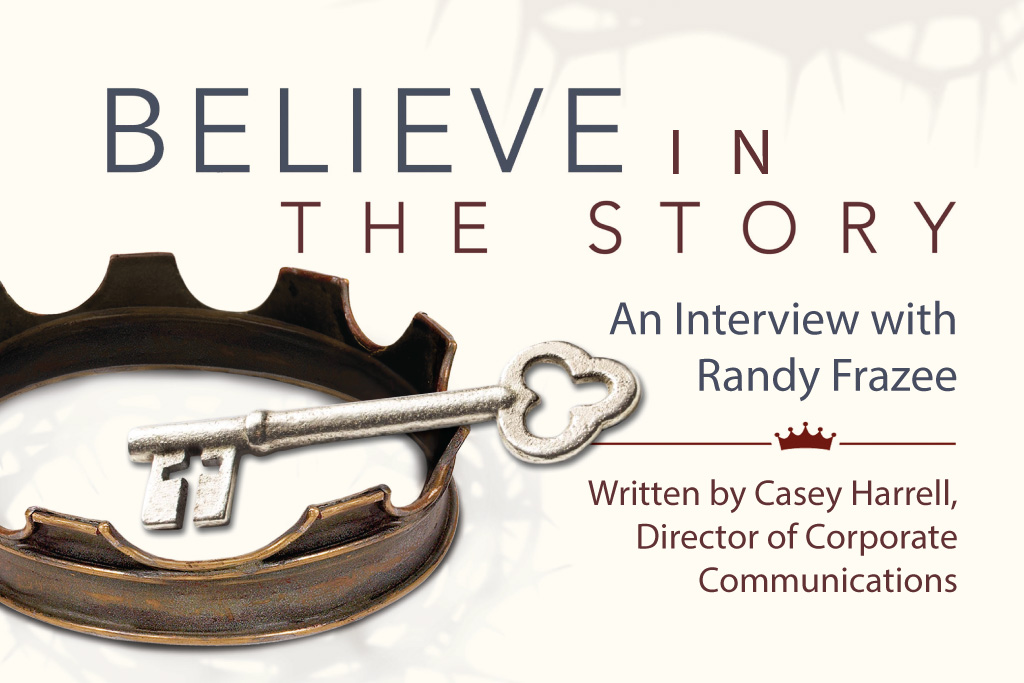 Even at a young age, pastor and bestselling author Randy Frazee knew there was something important inside the black, fake-leather KJV zipper Bible his grandmother gave him. He knew it needed to be reverenced - he just didn't know why.
Born and raised in Cleveland, OH, Randy grew up in an un-churched home. A self-described "obscure little boy," he knew nothing of being a Christian until the age of 14, and even then he still did not truly grasp what the Bible was trying to tell him about his life. Though he was a believer by age 15, church was a place Randy went so he could sit next to his high school sweetheart and hold hands. "That was going out back then," recalls Randy.
Randy got the girl and later married her, but it wasn't until he attended Dallas Theological Seminary that he truly understood what it meant to be biblically literate. It was there he developed a passion for Bible teaching and spiritual community built around understanding how God's Word is truly a story.
Now living in San Antonio with his wife of 32 years, Rozanne, the Frazeesare proud parents of four and grandparents of one. Randy serves as the Senior Minister of Oak Hills Church, where he teaches and leads in partnership with fellow pastor and New York Times bestselling author, Max Lucado. As a long-time friend and author with Zondervan, Randy has worked on multiple campaigns with the publishing house to start a major biblical movement, most notably The Story. He knew that if entire churches could fully commit to the Scriptures, no matter their study level, their lives would be forever changed. Now with the book approaching two million copies sold, Randy continues to teach The Story through a nationwide tour that includes performances by Casting Crowns, Steven Curtis Chapman, Natalie Grant, Matthew West, and more in order to awaken hearts and create an understanding of Scripture.
This year, Randy will take the inspiration behind The Story to a whole new level with his new project, Believe. Randy sat down for an interview with HouseWork to explain his passion for The Story and his vision for Believe.
How did you originally become involved with The Story? What was it about this concept and project that attracted you?
"In 2005, I was the senior pastor of Pantego Bible Church in Fort Worth, Texas, when I got a call from Zondervan's then VP of Marketing, Doug Lockhart. He had some Bible projects he wanted me to look at and asked if I could come by the office. I agreed to come by, really out of courtesy, because Doug knew my passion for biblical literacy.He showed me three projects, one being the first edition of The Story. When he told me its concept, a lightbulb went off in my head. This product could actually help people truly read the entire Bible! Many people don't realize that the Bible, in its original form, is not laid out chronologically. But, out of obedience to their study, they read it in order - Genesis to Revelation - and often times they become confused. But with The Story offering an abridged chronological version, people could actually read it front to back and it would make sense to them! I knew that if this was possible, I could build a community around it.
"I went back to Zondervan and expressed my vision of an entire suite of products to immerse the entire church at once, including a family study and children's piece. And so, Zondervan delivered. In 2007, two years after accepting the teaching pastor position at Willow Creek Community Church, I received the "thumbs up" to start The Story study at our New Community - a mid-week service dedicated to more in - depth Bible teaching and worship. The first night, our attendance jumped 50 percent. I knew that this would be a deepening experience for our church, but I had no idea what an outreach it would be as well.