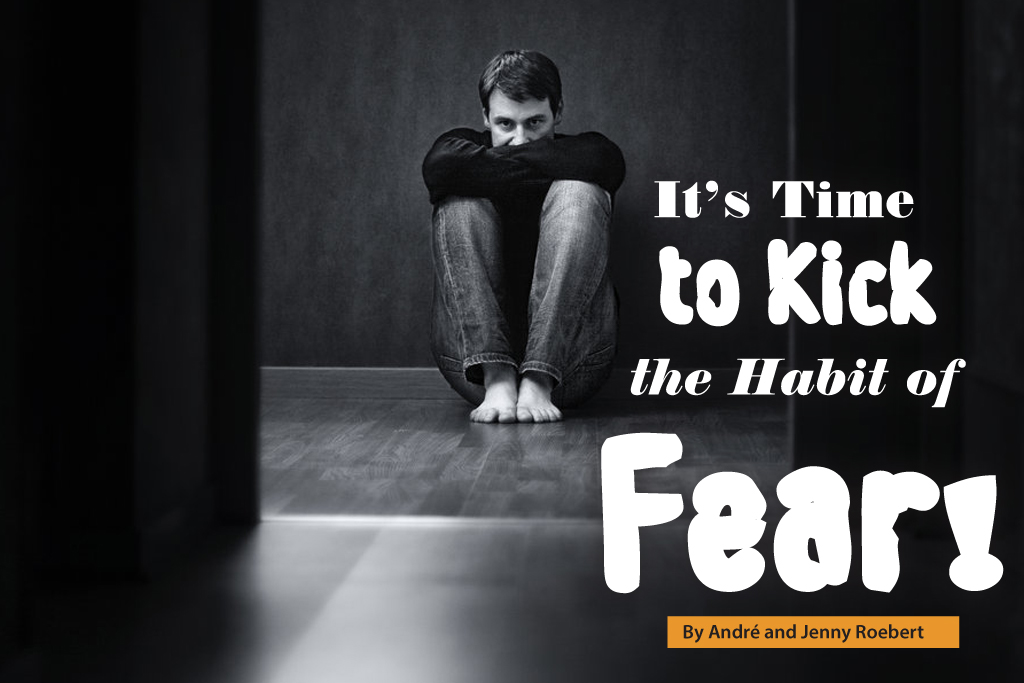 As a child of God, perhaps one of the greatest challenges we face is having to constantly keep our thoughts in check. Entertaining and dwelling on negative thoughts becomes a quick habit that is difficult to kick. A habit that paves the way for the destructive force of fear.
I don't think there is one person on this earth that has not had to deal with negative, fearful thoughts. The Bible likens these thoughts to fiery darts aimed at our minds, with the full intension of destroying us. Should we allow them the opportunity, those thoughts most certainly will do just that. You see, fear, like faith, is a very powerful spiritual force. Just as the smallest amount of faith, when nurtured, has the potential to produce life; the smallest fearful thought, has the potential to produce death in our lives as it neutralises our faith and steals our peace and joy.
In the world we are living in today, there is terror, destruction and hopelessness all around us; giving fear a first class ticket to invade our thought life. And if we are not careful, thoughts filled with worry and fear can easily become our closest companions. The more we yield to or pay attention to them, the more we give those thoughts power over our lives. Before long, we become our greatest enemies.
That is why being filled with the Living, Spirit of God is what makes the difference between life and death for us. Because kicking the habit of fear is not something we have to do alone! Living inside of us is the Spirit of the One who has already overcome! That's what John 16:33 says, "In the world you will have tribulation; but be of good cheer, I have overcome the world."
The key is to cooperate with the Holy Spirit and be careful to take every negative, fearful thought that finds its way into our minds captive! The Bible says to cast those thoughts right out! Refuse to pay attention to them and then, go straight to the Word of God and replace them with what God says about the situation we are battling over. We do this because God's truth is alive and powerful and the moment we put our trust in it, it floods our minds with peace and a joyful strength that is simply unexplainable.
The question is, "How do we know if that fear filled thought is of evil origin or a warning from the Spirit of God?" Well, that's where discernment comes in. According to scripture, because we are in Christ, we do not have a spirit of fear but a Spirit of love, power and a sound mind. This means, we will be able to recognise the spirit behind the thought.
Let me explain it this way: Years ago, when bank tellers were trained to discern whether money is counterfeit or not, they were given stacks of bills or notes that were legitimate. They studied the notes and constantly worked with them, allowing their fingers to be completely familiar with their texture. Then, a counterfeit note would secretly be placed inside the stack of legitimate notes and because the tellers were completely familiar with the legitimate ones, they would immediately identify the notes that were false.
Just the same, the more we spend time in the Word of God and in fellowship with the Holy Spirit, the more fine-tuned we become to recognising Him. He is love and power and clarity of thought - not confusion and panic. So when a thought enters our minds invoking worry, panic or fear, it is not from the Spirit of God because it does not follow after His nature. Every time the Spirit of God warns us concerning something, it will be clear, with a definite sense of purpose and peace. You will have no doubt at all concerning where it came from.
Recently, my husband Andre, had to undergo corrective surgery to his leg. The day before his scheduled surgery, he met with three of the best orthopaedic surgeons in the state. After much discussion, they decided on the procedure they felt best to adopt for the surgery. At 2am the next morning, Andre woke me up and was absolutely convinced and confident that the Lord had told him the surgeons were incorrect concerning their procedure decision. He knew beyond a shadow of a doubt, exactly what procedure they should do. When we went to the hospital the next morning, he spoke with the surgeons and they were baffled at how they had never picked up on what he told them. Needless to say, they changed their procedure plans and operated according to what the Lord had revealed to Andre. Praise the Lord for His faithfulness to speak to His children.
When the Lord spoke to Andre and dropped the word into his mind and spirit, although it came with urgency, no panic or fear accompanied it. He wasn't fretful or confused about it either. It was a word of knowledge revealing exactly what was wrong with the planned procedure and a word of wisdom to know how to implement the correct procedure.
Having said this, you should know, as much as the Spirit of God is alive on the inside of us, unless we choose to yield to Him by spending time in the Word and communion with Him, our own negative thoughts will progressively shout louder than His voice of wisdom and comfort inside of us. That's why we need to make spending time with the Holy Spirit and the Word of God, our number one priority.
Reading and meditating on the Word all the while being sensitive to the Holy Spirit's leading, causes the words to come alive on the inside of us. As they begin to feed your spirit with hope and peace and understanding, wisdom begins to flow because your spirit is fine tuned to the voice of God's Spirit. It's a very powerful and exciting process that becomes quite addictive! And before you know it, you've begun to live in a place of new freedom because you've kicked that habit of fear right out of your life!